Stephen Price
Co-Creator, Director, Writer, Producer
I'm the owner of Music Row Video in Nashville, and have a blast producing each episode of "The Highland Woodworker", with the hopes that woodworkers, and even non-woodworkers will enjoy watching this unique on-line series. I have a 15 year background in the broadcast industry, where I  worked in all aspects of this fun business. Charles Brock and I have produced woodworking dvds in the past, and wanted to to take the information and entertainment aspect of our work to tell the stories of other woodworkers. While waiting for a pizza we sketched out a rundown for a magazine show that would focus on the people and their inspirations behind woodworking projects…and here we are today! Thanks for watching!! If you want to drop a line and say hello, click here to email me!
---
Keri Price
Co-Creator, Sales & Client Services
Hello folks!  How do I fit into this operation, you ask?  Well, I am the daughter of show host, Charles Brock, and the wife of the show's creator and producer, Stephen Price.  What does this mean?  Essentially, I'm "cheap labor!"
I am the Co-Owner of "Music Row Video." the production company that produces "The Highland Woodworker" web show for our client "Highland Woodworking" of Atlanta, GA.
My responsibilities include securing sponsors for "The Highland Woodworker" web show and taking care of those great sponsors, throughout the partnership.  If you are interested in learning more about how you or your business can become a show sponsor or advertiser, I would love to hear from you!  Click here to email me!
---

Charles Brock
Co-Creator, Host & Executive Producer
Click here to email
As host, executive producer and co-creator of The Highland Woodworker, I am simply adding to the life experiences with which I have been blessed. The show allows me to inspire fine woodworkers by introducing them to the masters of fine woodworking while providing information and resources to enhance their woodworking journey.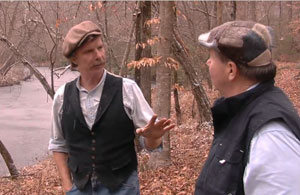 I have been building fine furniture since 1979. My work includes reproduction and contemporary tables, chairs, beds and chests. I have crafted over 200 furniture commissions for clients who have become friends. Teaching woodworking combines my experiences as a teacher (30 years public schools) and woodworker and is very satisfying. My current work is greatly inspired by the late Sam Maloof, an icon of modern woodworking.
Besides teaching seven day, hands-on sculptured rocker classes in my Spring Hill, Tennessee studio, I have made appearances on the Martha Stewart Show as well as Popular Woodworking's annual Woodworking In America Conference. My sculptured rocker and low back chair DVD, book and pattern bundles have sold all over the world helping woodworkers build their "bucket list" projects. In addition, I work with Newco USA to develop licensed products such as Masterpiece Oil and Wax Finish and sculptured chair kits.
Recently, my wife and I moved our home and shop from my hometown of Columbus, Georgia to Spring Hill, Tennessee to enjoy living near our family. When not working wood or developing the show, I enjoy spending time with my wife (Sheila) and daughters (Keri and Emily) son-in-law (Stephen) and granddaughter (Ava). My hobbies include playing drums, guitar, harmonica and dobro.
Charles Brock
1799 Witt Way Drive
Spring Hill, TN 37174
706 366-3152
charlesbrockchairmaker.com
thehighlandwoodworker.com
---