Jeff Wyatt

Jeff Wyatt is the ultimate garage woodworker! What usually would hold two cars – Jeff has turned into his well-organized workshop. See his impressive hand and power tool layout and hear all about Jeff's woodworking journey and the mentors who inspired him along the way.
Dave Puncochar

Many part-time craftsmen and women dream about going full-time with their art. Learn how master woodworker Dave Puncochar turned his passion into a profession – selling reclaimed wood and hardwood lumber, designing and building furniture, and creating an entire team in the process!
Roark Phillips

Eagles, raccoons, and bears, oh my! Roark Phillips is a woodworking magician. He made a three-foot-tall eagle appear within a cedar log in less than 30 minutes! Hear Roark's story and inspiration, tour his unique shop, and watch him fire up his tool of choice – the chainsaw, in our Moment with a Master.
Bob Baker

Period Furniture Maker Bob Baker invites us into his hideaway in the hills of Tennessee. We'll tour the incredible masterpieces he's built throughout his home and get an essential lesson in workshop organization.
Daniel Clay

Chip carving is woodworking that doesn't require a large space or investment. Daniel Clay is a master of this art and can show you how to get started and grow your skills. Learn more about Daniel and how he creates something special with a few tools and practice in our "Moment with a Master!"
Alex Jaynes

Shared space workshops with a common area of stationary tools, who can benefit, can they work? We visited Able Trade in downtown Knoxville, Tennessee, to find out! Alex Jaynes, a professional furniture designer, artisan, and member of this unique workshop, shows us his innovative and functional work while giving us a glimpse of what it's like to work in an environment like this in our Moment with a Master.
Bill Lester

Retiring to the perfect tiny house he and his wife designed and built on a Tennessee hilltop, Bill Lester decided building banjos and dulcimers would make life perfect. We will hear his story, take a tour of their 600-square-foot dream home and then go to his spacious shop to learn how he makes his beautiful banjos from bending hoops to inlay in our Moment with a Master.
Musgrave Pencil Company

When woodworkers start a project, chances are the first thing they reach for is a pencil. Pencils are the product of a lot of woodworking themselves. Musgrave Pencil Company has been mastering the process of making great pencils for over 100 years in their production facility in Shelbyville, Tennessee. Not only will you learn how they get that lead into the middle of that round piece of wood, but you will also learn a secret about the lead that just can't be erased! Enjoy their story in our "Moment with a Master."

Judy Gale Roberts

From animals to astronauts – wood artist Judy Gale Roberts takes intarsia to a whole new level. Learn more about this dimensional woodworking style as we take a closer look at her work and her process in our Moment with a Master!
David Sapp

It is rare to be a great generalist as a woodworker. We'll introduce you to David Sapp, a multi-talented woodworker, teacher, and woodworking community builder who achieves at a masterful level in all craft areas. In a single project, David might use everything from his grandfather's hand tools to his modern CNC equipment. David will make the chips fly as he demonstrates how to get a handle on turning two pieces at once – in our "Moment with a Master" segment.
Randy Walters

Carve out a moment of your time and get to know Randy Walters! He invites us into his Columbia, Tennessee workshop and gives a tour of his impressive relief carving collection. You'll hear what inspired him to take up the craft at an early age, the process he goes through, and the tools he uses to make dimensional works of art.
Daniel Corban

While touring exhibits eight years ago, a collection of beautiful tiger Maple furniture eagerly drew my attention. The furniture had that curly maple "pop" that woodworkers desire and value. That day I met a young maker named Daniel Corban whose work I have seen at prestigious exhibits like the famous Masters Show. His knowledge of history and traditional woodworking skills come into play as he redesigns period pieces for today's homes. Learn more about Daniel in this episode's Moment with a Master.
Geoff Wymer

Woodworking is a leisure activity for many enthusiasts. It is a chance to play in the shop, make something, be original and have fun. Alabama's Geoff Wymer is inspired to make things that are fun in his shop. He was inspired to be a woodcarver. His interests also included creating unusual musical instruments from wood and other everyday items. Are his creations just functional art or much more? Take a look as we tell his story and share his creative passion in our Moment with a Master.
Scott DeWaard

When a group of master woodworkers gets together, you quickly find out who they admire. Charles Brock kept hearing about Scott Dewaard. When the two finally met up at the Master's Show in Knoxville, TN – Charles immediately knew why he is held in high esteem by his colleagues. From his straw bale shop to his impressive use of laminating stock you are going to enjoy visiting with Scott in our Moment with a Master. Scott will also teach us how to build a single-purpose crosscut sled that is not only accurate but easy to construct.
Caleb Woodward

Master Woodworker Caleb Woodard is making waves in furniture design. His unique style blends sculptured movement with function and the results are captivating. We'll go to Caleb's Springfield, Tennessee workshop and meet this second-generation woodworker and cutting-edge designer in our Moment with a Master.
Sheila Collins
From carving to turning to even creating life-like flowers – master woodworker Sheila Collins does it all! We'll get a tour of some of Sheila's work and hear the stories behind some of her favorite pieces.
John Lucas
John Lucas expresses himself through his work. He is an artist living in a world that is ruled by the question "What if?" Most of his work is personal because a theme inspires it. John is known worldwide for his marvelous hand mirrors and reveals his methods for making them on his lathe. Not only is John a master woodturner, but his photography skills have also launched many woodworking artists into the next level of their careers. Spend a moment with John Lucas in our "Moment with a Master!"
Anne of All Trades
Anne of All Trades is a multi-talented woodworker, gardener, builder, and creator of many things. She is a social media star with a huge following because of her "Can-Do" attitude. Her natural ability makes her a fantastic woodworker and teacher. Anne takes us on a tour of her farm, her future woodworking shop.
Tim Arnold

Tim Arnold has always loved woodworking. A close family member kept encouraging him to take a box making class at Shaker Village in Pleasant Hill, Kentucky. When he finally did, Tim immediately found his true passion! Not long after that, he said goodbye to the corporate world and has enjoyed making Shaker oval boxes using traditional methods and modern designs for many years. We're excited to show you some of Tim's creative work and box making techniques at his workshop in Nashville, Tennessee!
Charles Brock

The notes for this segment are hard for me to write! Especially, when yours truly is the subject of the Moment with a Master segment. Yep! It is about your host's story. How did I journey from being a longtime garage woodworker in a South Georgia town to become your host for The Highland Woodworker? I hope you find it inspirational. Also, find out my key question for planning and organizing a workshop for professional success.
Don Weber

He wasn't interested so much in what was on the blackboard in school. Don Weber's thoughts were on what he saw on the other side of the window from his desk. The Welsh woodlands were full of adventure, and he wanted to explore all it had to offer! His dad made him a small toolbox and sent him on his way. The meager kit allowed him to repair and even turn chair parts for the many Windsor and "Stick" chairs in the region. His chairmaking career would eventually lead him to Paint Lick, Kentucky. Come with us to his most interesting workshop and enjoy the life and teaching of Don Weber in our Moment with a Master.
Wyatt Severs
Wyatt Severs is the youngest woodworker we have featured in our "Moment with a Master" series. I found some of his amazing work online and had to know more about him. So first, I read his biography and was blown away by his resume. Wyatt has already taught at all the prestigious woodworking schools in the country, built a wonderful gallery of artistic studio furniture commissions and he is just in his early thirties. Meet the talented Wyatt Severs.
George Wurtzel
George Wurtzel was born with a degenerative eye disease that left him unsighted by the age of twenty. In our "Moment with a Master" we visit George at his East Tennessee workshop where he shares his compelling story and shows us how he accomplishes his woodworking projects.
Al Christopher
I receive many requests that promote a favorite woodworker to be the subject of a Moment with a Master segment. I am so happy that I pursued the request for this candidate. He has been a very successful professional woodworker and now in his retirement has become one of the most creative hobbyist woodturners, ever! Learn why so many woodturners are big fans of Al Christopher and his work, in our "Moment with a Master!"
Dennis Zongker
I first saw Dennis Zongker's masterful work in a popular online woodworking forum many years ago. "Amazing" and "Awesome" are so over used today, but Dennis' work is all of that and so much more! Come with us to Omaha, Nebraska where we will find out why he is equally at ease sculpting life-size statues or crafting high-end furniture. Get to know Dennis Zongker in our "Moment with a Master!
Phil Colson
If you have ever been to Highland Woodworking there is a good chance you have interacted with long-time employee Phil Colson. When he's not helping customers or filling orders in the stock room – there is a good chance he is teaching one of his popular woodturning classes upstairs. He'll give us a tour of some of his masterpieces – and watch as the magic unfolds while he shows us some of the techniques he uses on his lathe to make his beautiful bowls.
Megan Fitzpatrick
Megan Fitzpatrick has been surrounded by woodworking her entire life, but early on she spent most of her time and attention becoming a wordsmith. Learn how her sharp writing and editing skills took her all the way to one of the top jobs in the publishing industry — which also opened up a unique opportunity for her to learn how to build beautiful fine furniture, as well.
Grant Batson
Grant Batson has worn many hats as a woodworker. He has built some of the most desired artisan guitars in Nashville, TN. He creates exquisite furniture, but that is not all. Grant has become one of the world's great pipe makers. Well, we are not advocating smoking tobacco pipes, but we are amazed at the artistry Grant has brought to sculpting and crafting them. Hear Grant's story and learn how he crafts them for form and function in our "Moment with a Master."
Christopher Schwarz

Christopher Schwarz is to hand tools and hand tool education what Norm Abrams was to power tools. His hand tool research, teaching and publishing is the catalyst for energizing a hand tool renaissance. Several years ago, we visited his home workshop and living room office for "Lost Art Press." Today he has expanded into a commercial location for the shop, teaching, publishing and tool making in Covington, Kentucky. Christopher gives us an exclusive tour of the "Lost Art Press" headquarters.
Larry Williams

The Arkansas Arts Council declared Larry Williams a Living Treasure for his work in building 18th century British style wooden planes! Larry and his plane making partner, Don McConnell, will show us how they craft these marvelous tools, and let us in on some of the tricks for using them.
Nick Offerman

Nick Offerman is known around the world as one of the top comedic actors of our time, and his woodworking is really starting to get a lot of attention too!
Doug Stowe

Not only does Doug Stowe build fine furniture and beautiful boxes – he also teaches young and old alike how to express themselves as woodworkers. We travel to Arkansas high in the Ozarks to spend a moment with this incredible woodworking master.
Al Hudson
Al Hudson is known as the "Dean of Woodworkers," and his accomplishments go far beyond his many masterpieces that he's produced in his 84 years of woodworking. We were invited to his Knoxville, Tennessee home and workshop to spend a moment with this amazing master.
Jerry Spady
Before Jerry Spady became a full time woodworker he was a bench scientist. He used those skills from his days in the lab to help solve an issue he had in his shop. The experiment concluded with, what he believes, is a new material that bends the limits of woodworking. Spend a moment with the very colorful Jerry Spady, and see how he uses his very own discovery in many of his masterpieces.
Pat Matranga

Pat Matranga moved to Nashville and became a Music Star. She spent most of her time performing in Japan before turning to a career working with wood. She has made a living as one of the most creative and prolific turners in the business. Pat tells us her wonderful story and shows us some of her production secrets in our "Moment with a Master."
Len Reinhardt

Meet furniture conservator and restorations expert Len Reinhardt. Find out the necessary skills to accomplish this unique work and how Len's studies and experience prepared him for the work. Observe how he evaluates a piece of furniture for restoration and plans his work to accomplish the owner's objectives.
Dr. Jeff Justis

Society of American Period Furniture Maker's 2015 Cartouche Award winner Dr. Jeff Justis is a "Jack of all trades and Master of all!" Jeff's woodworking hobby not only inspired his professional pursuits as an orthopedic surgeon it inspired him to create a lifetime of building some of the most beautiful furniture I have ever seen. We invite you to see his work and find out more in our "Moment with a Master!"
Robert Johnson

Master Furniture Maker Robert Johnson is a third generation craftsman, is passionate about his work and also plays a mean banjo on the side. He invited us to his workshop in Memphis, Tennessee. We take a look at some of his current work, projects in progress and even his very first piece he made, at an early age, as a Christmas gift for his father. He will take us through his process of knocking out doors — and just wait until you see the machine he uses that can make square mortises in less than a minute. Oh, did I also mention he spent years on the water as a Marine Biologist? Spend a moment with the incredible Robert Johnson.
Mike Pekovich

Mike Pekovich isn't the ordinary woodworking magazine art director. He is also a master woodworker whose talents at Fine Woodworking Magazine have significantly influenced thousand of woodworkers over the past nineteen years. I recently visited with Mike in his wonderful Connecticut workshop to hear his story and see how he designs and crafts his beautiful pieces of furniture.
Garrett Hack

As we were driving up a rural, winding Vermont road, we had to abruptly stop to let a flock of chickens cross the road. I looked to see where all those chickens were coming from and saw the perfect hand built workshop and the home of Garrett Hack. Garrett is the "vertically integrated woodworker." He grows and harvests his own wood, envisions and executes beautifully designed furniture pieces and lives farm to table. Join us as we spend a Moment with Master Woodworker Garrett Hack.
Worth Squire

Master woodworkers are from many backgrounds. Many are well known but most work their magic privately seeking perfection in each piece. One of our recent masters introduced me to Worth Squire a former songwriter and musician turned woodworker who builds beautiful pieces of furniture while developing novel approaches and techniques especially in the field of marquetry. Worth's chairs, cabinetry and marquetry pictures are astounding and filled with artistic designs and features developed to execute his vision for each piece. I am sure you will enjoy spending a moment with Master Woodworker Worth Squire.
Thomas Lie-Nielsen
We journeyed to Warren, Maine to visit with Thomas Lie-Nielsen. Growing up he was immersed in a culture of boat builders and makers of all types. Thomas tells us how he became a maker of some of the most coveted fine woodworking hand tools made today in our "Moment with a Master!"
Ronnie Young
Ronald (Ronnie) Young has spent his life building amazing projects. From nuclear power plants to period furniture, Ronnie works at the highest levels of the art. He is the 2016 recipient of the Society of American Period Furniture Makers prestigious "Cartouche Award." Ronnie tells his story and teaches us his method for creating beautiful paterae inlay when we spend this "Moment with a Master."
Warren May
Warren May will soon have made and sold 18K beautiful dulcimers in his Berea, KY shop. To call Warren the "King of the Dulcimer" would not be a stretch! Warren also builds beautifully proportioned Kentucky furniture from his locally harvested cherry and walnut. Listen to Warren as he plays you a tune, sings a song and tells his woodworking story.
Sabiha Mujtaba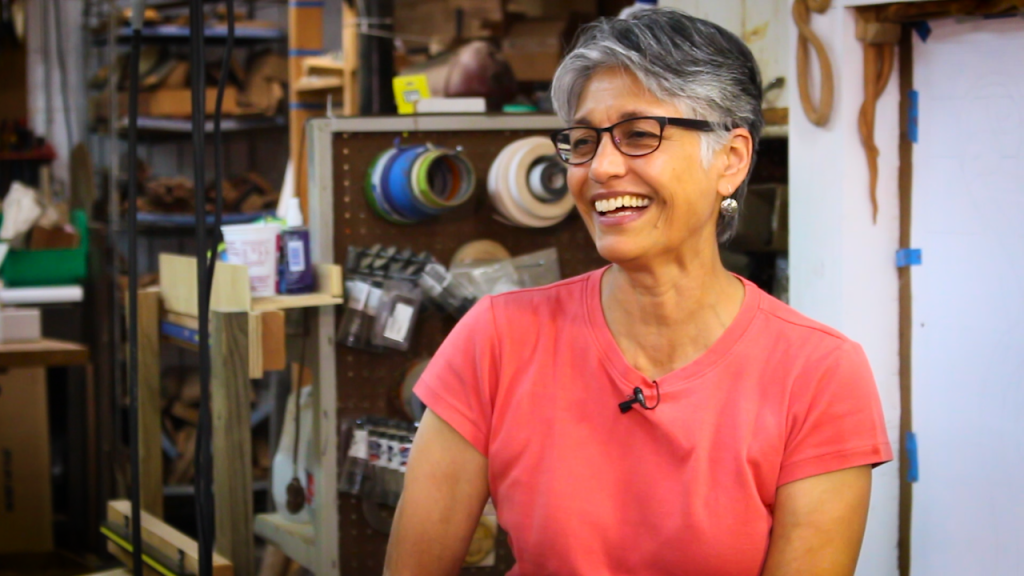 Sabiha Mujtaba's woodworking is extraordinarily beautiful and organic. Her many influences come alive and look alive in her work. A chair's backrest becomes a snake, while a blanket carved from wood adorns a bench.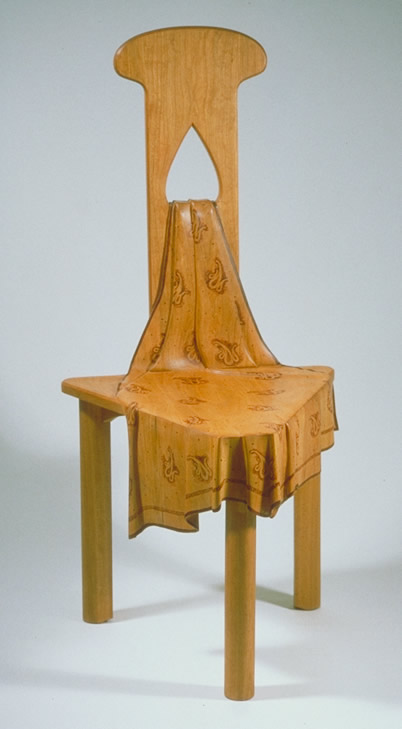 Sabiha is not only an artist she is an excellent teacher. Hear her story and find out how she creates a project from a vision to reality.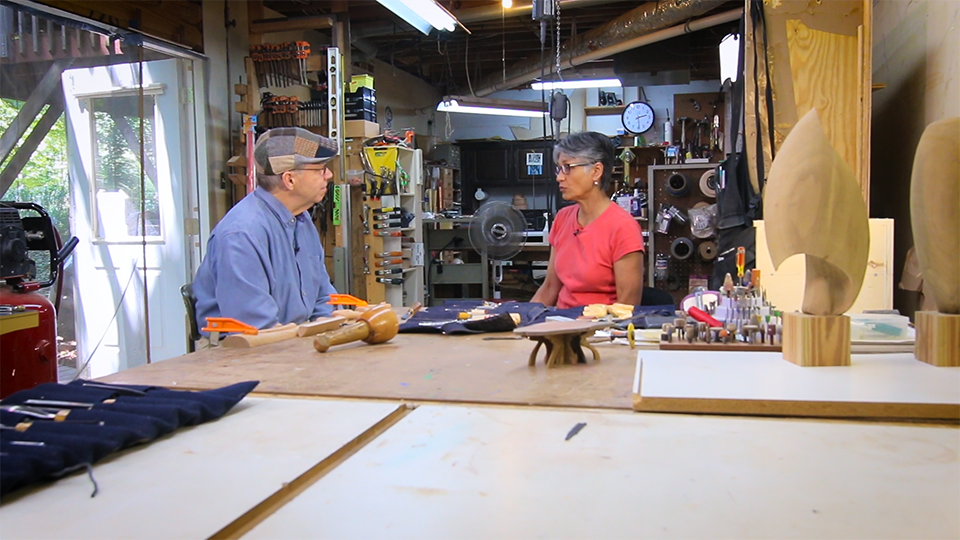 Henry O. Studley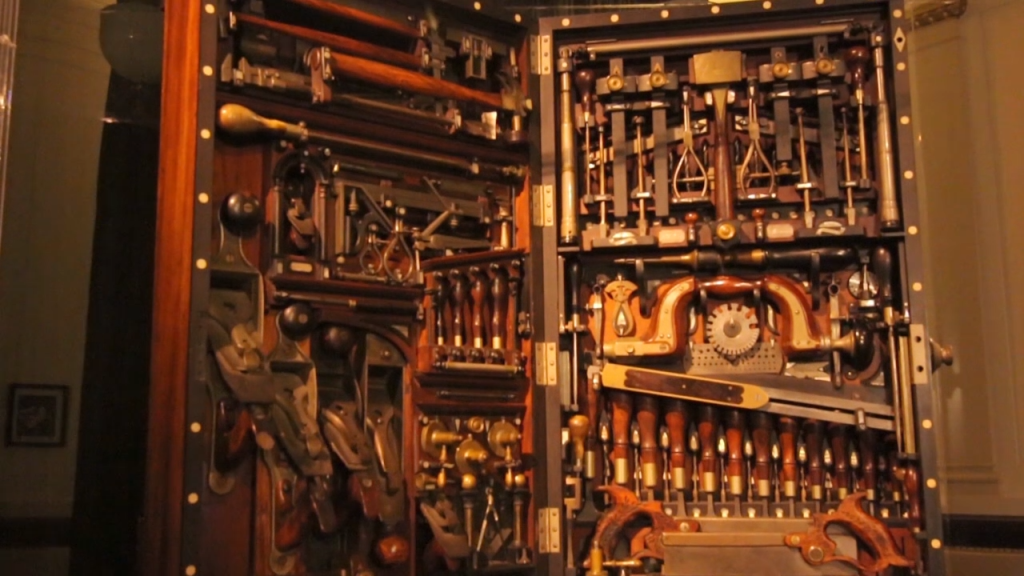 The most famous, best selling picture and poster in woodworking history is easily that of the Studley tool chest and collection. This "Got to see it" special "Moment with a Master" is all about Henry O. Studley, the man, the tool collection and his famous tool chest.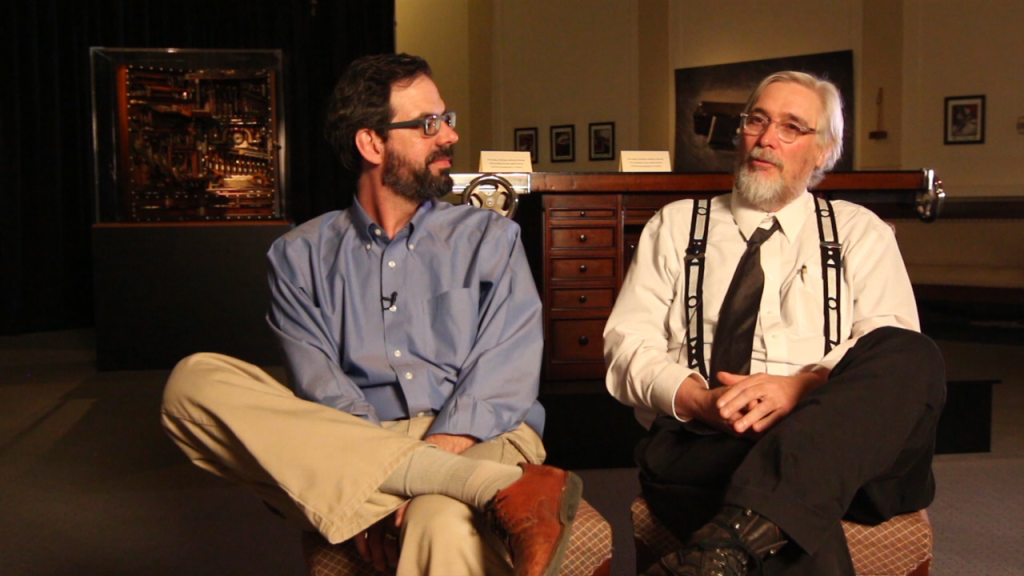 Woodworking gurus Chris Schwarz and Don Williams discuss what we know and don't know about Studley — the person and the genesis of the tools and his hand built chest. With accompanying photographs by Narayan Nayar, Studley's work comes alive.
Peter Galbert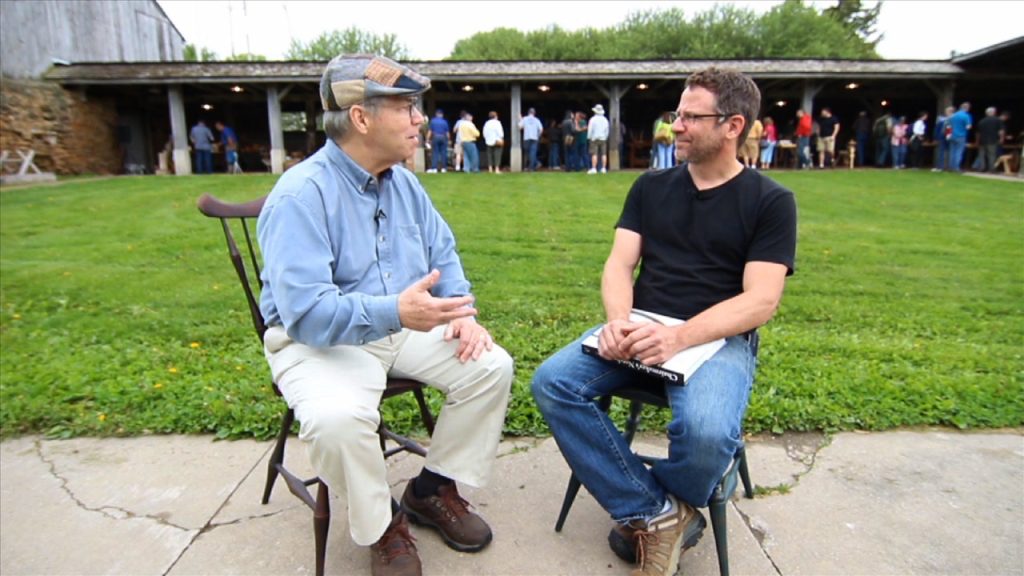 Peter Galbert is not only a tremendous Windsor chairmaker, teacher, designer, author, illustrator and artist, he has designed some amazing tools.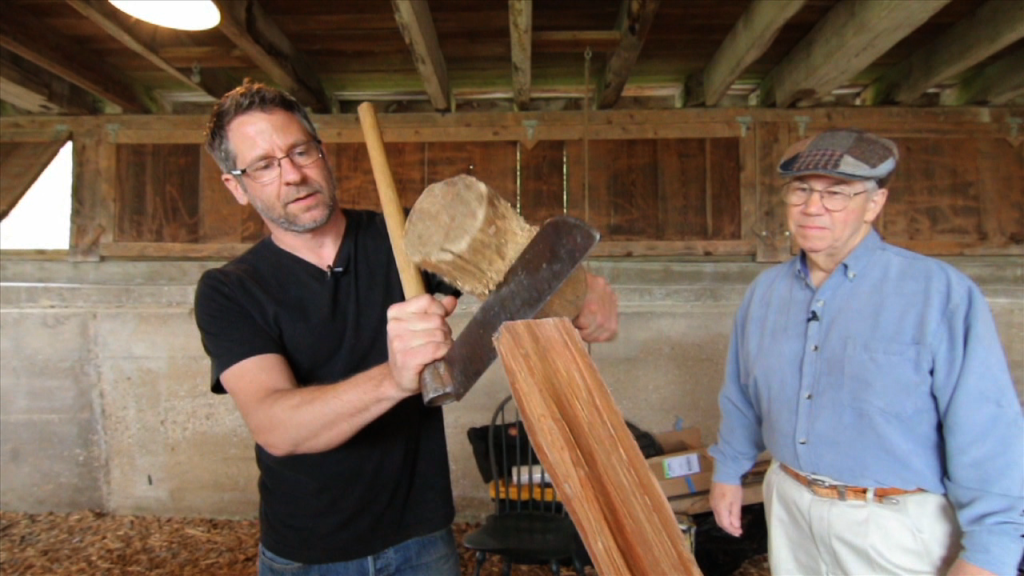 I met him about seven years ago when he was assisting Windsor chairmaker Curtis Buchanon in a Highland Woodworking class. Peter was already working on illustrations for his recently published Lost Art Press book "Chairmaker's Notebook." I instantly knew he would become one of the next stars of the furnituremaking world. His work and story are the subjects of this "Moment with a Master."
Matthew Teague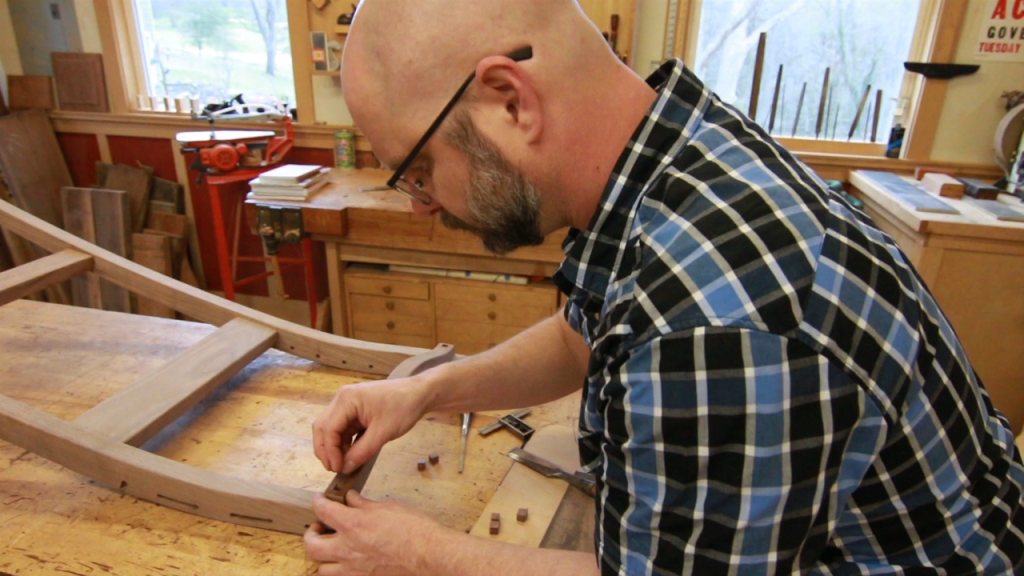 Matthew Teague was able to merge his passion for woodworking and writing into a fulfilling career at a handful of the best woodworking magazines. He invites us into his much blogged about Music City workshop for a tour of his renovated 2-car garage, which is now a perfect workspace for building fine furniture. Matthew tells us his unique story and explains the exciting journey he is on as a publisher and woodworker.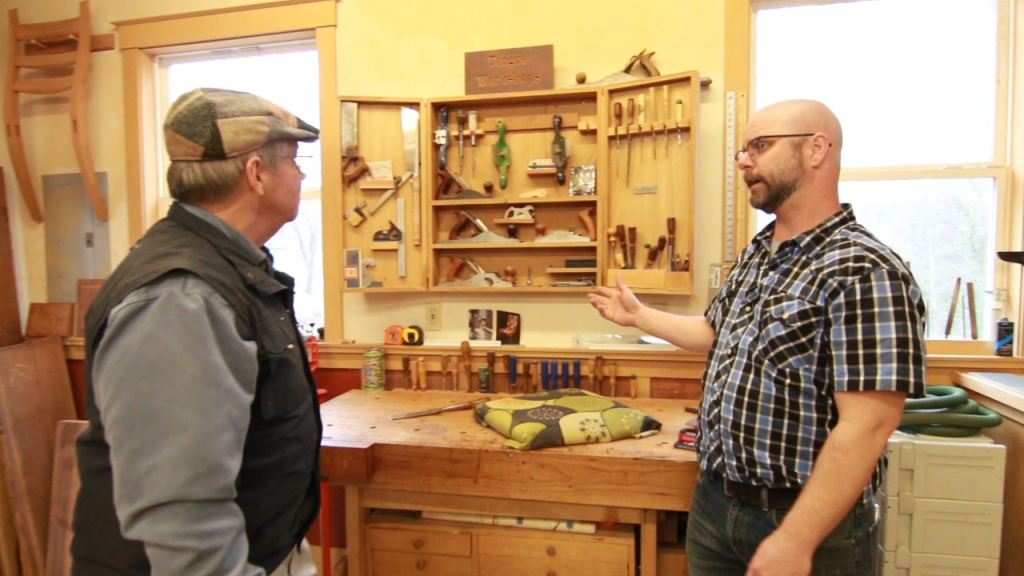 Michael Gilmartin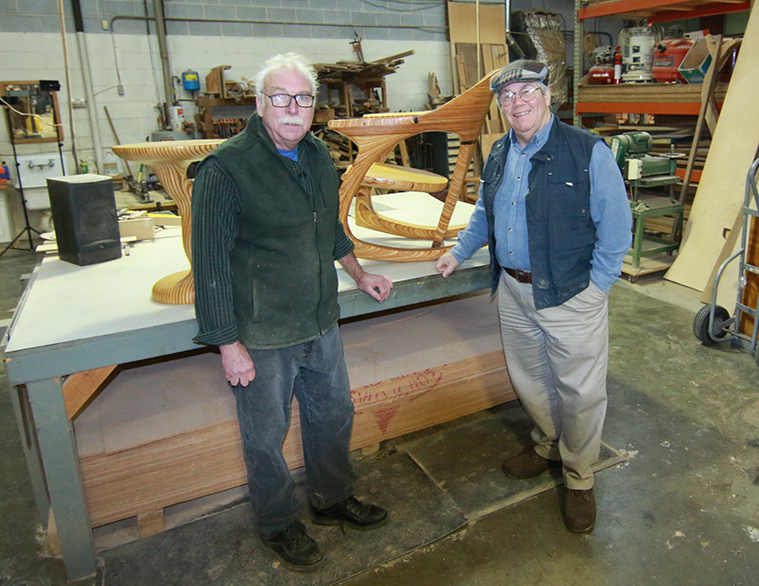 In his Atlanta, Georgia studio master furniture maker Michael Gilmartin crafts sculptured chairs and tables valued by some of the most prestigious art collectors and museums. In episode 17 –  Michael shares with us how the source of his famous rocking chair design actually walked into his home one day. Michael shows us his methods and materials and shows us how gravity plays a part in his beautiful functional forms.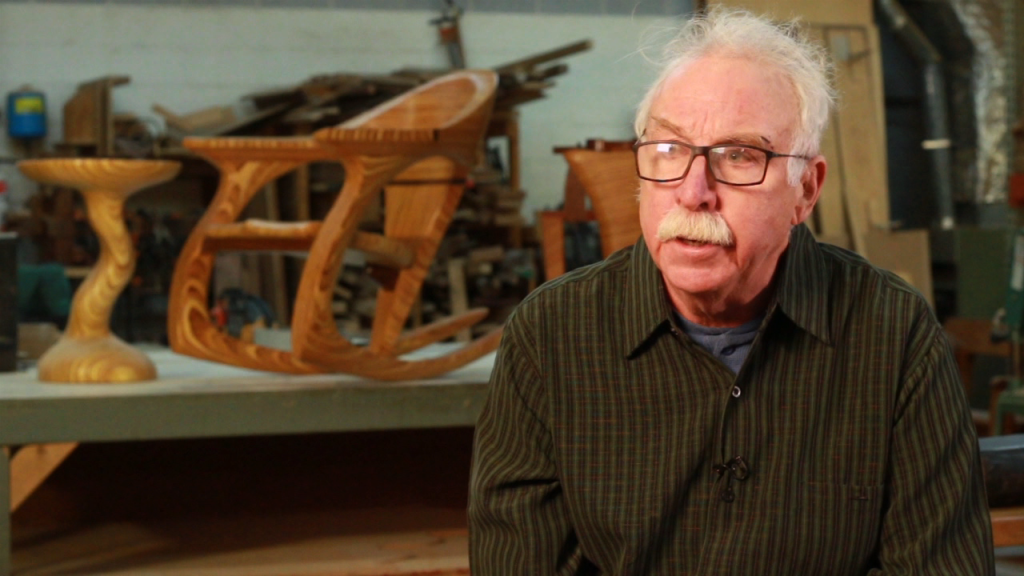 Don Williams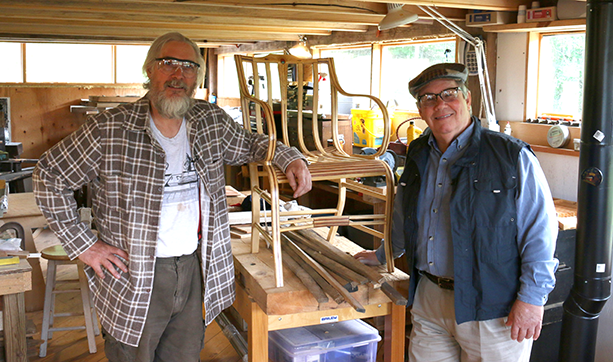 I am totally in awe of people who work at the top level of their craft. In the case of Don Williams he works at the top level of several crafts, with a portfolio of work and accomplishments almost unmatched. Don's resume includes a career as the Senior Furniture Conservator at the Smithsonian Institution's Center for Materials Research and Education. His projects include rebuilding the Wright Brothers Flyer and Teddy Roosevelt's globe.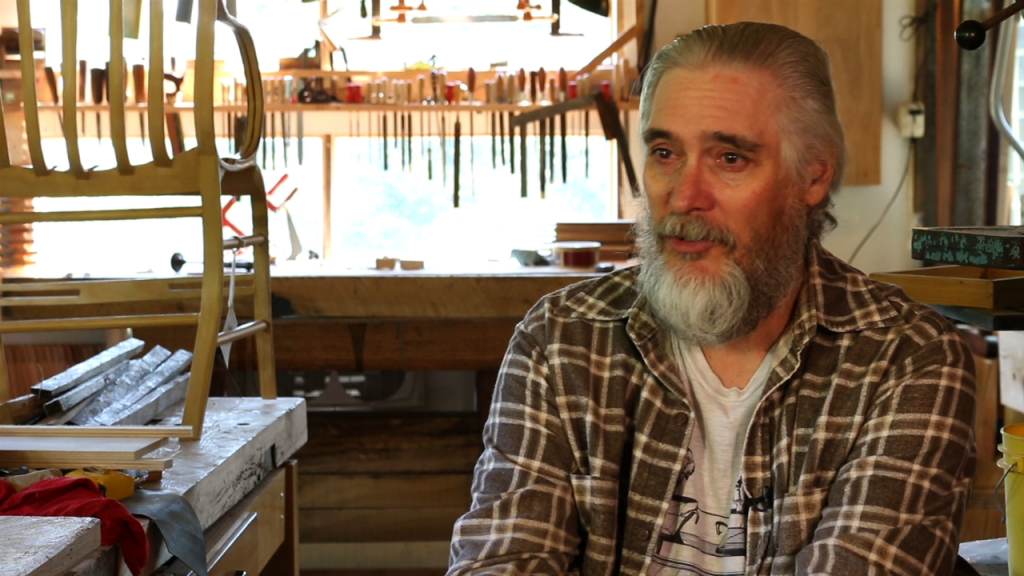 He collaborated with Lost Art Press to translate and publish Andre' Roubo's volumes detailing the art of 18th C. French cabinetmaking and carpentry. He is currently the curator for a special exhibition of the famous H.O. Studley Tool Chest. Kick back and take a trip with us to "The Barn On White Run" in Virginia's Highlands to meet Don Williams our "Moment with a Master."
Scott Phillips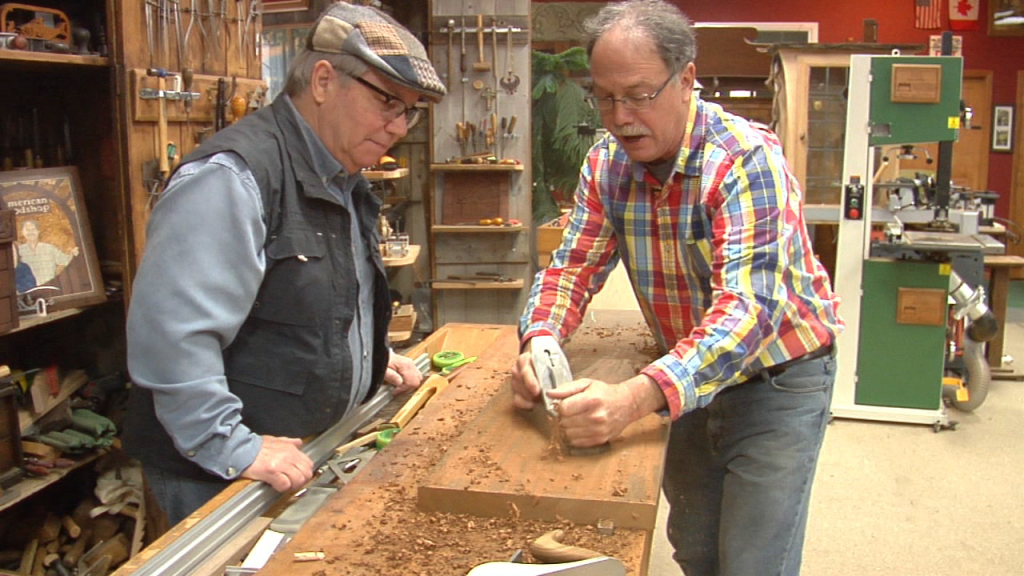 Scott Phillips is one of the pioneers of television woodworking. "The American Woodshop" has informed and entertained woodworkers for more than twenty years on PBS. His electric personality is very authentic, as is his love and passion for woodworking.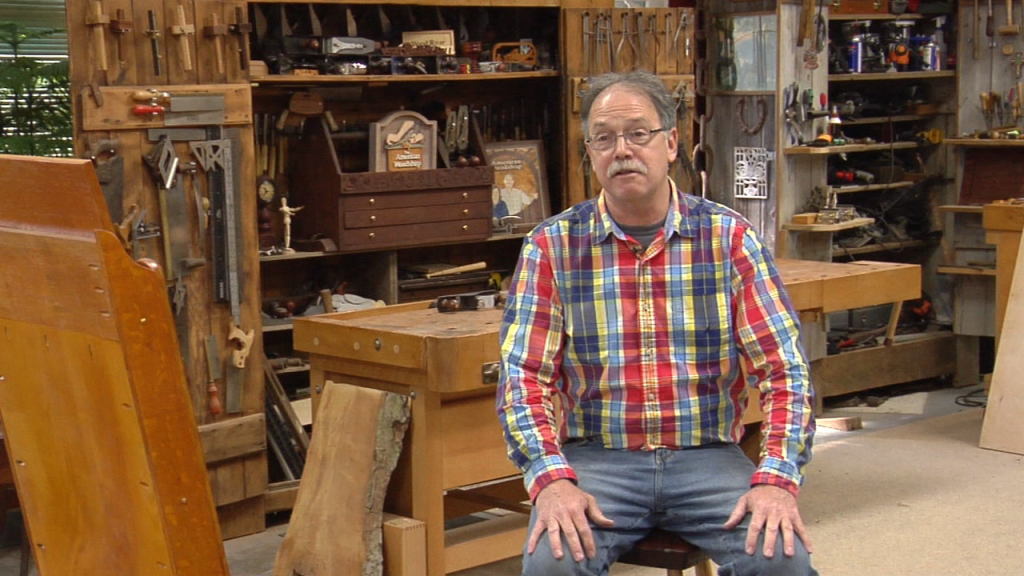 Charles approached Scott at a woodworking show and asked if he would like to have our camera and microphone turned on him to find out his story. When Scott said yes, he didn't know Scott's story would be one of the most amazing we would have on "The Highland Woodworker."
George Walker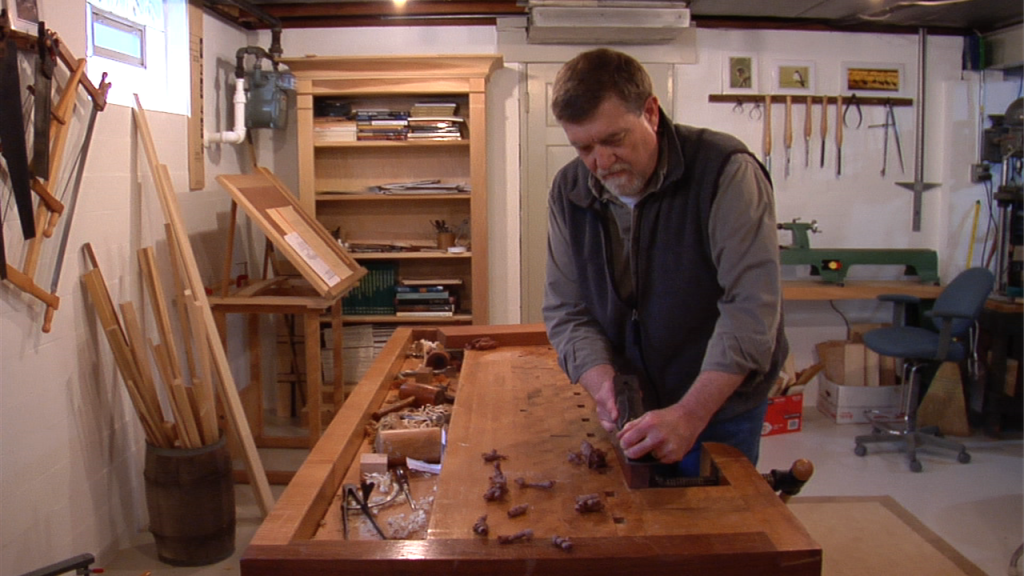 Furniture maker, designer and author, George Walker, has unlocked a building and design code that dates back centuries. George discovered the old master artisans did little measuring.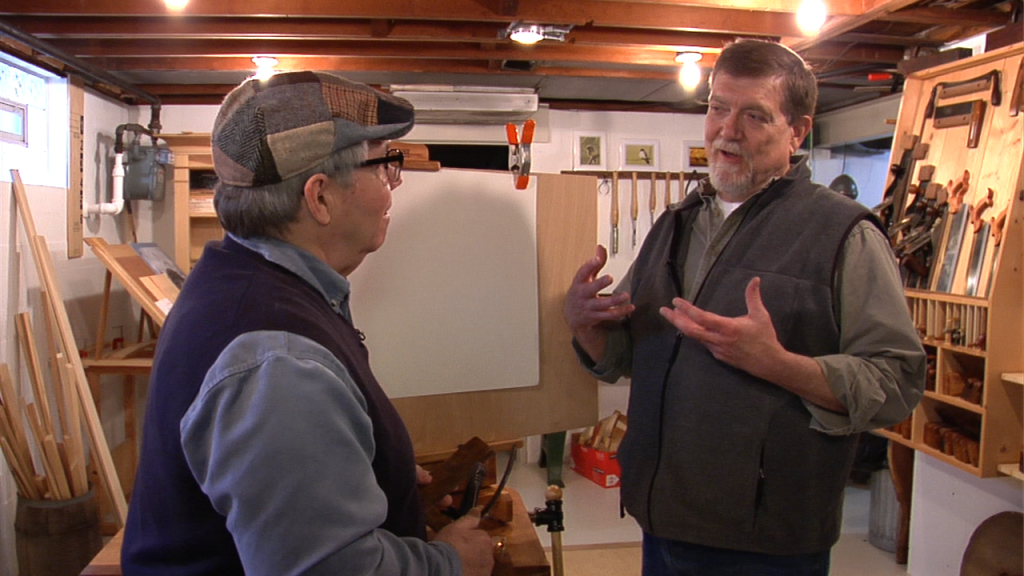 In this "Moment with a Master" segment he explains how they designed the pieces we call classics with use of simple dividers. Hear how he applies what he has uncovered everyday in his Canton, Ohio shop and you will want to try it too!
Glen Huey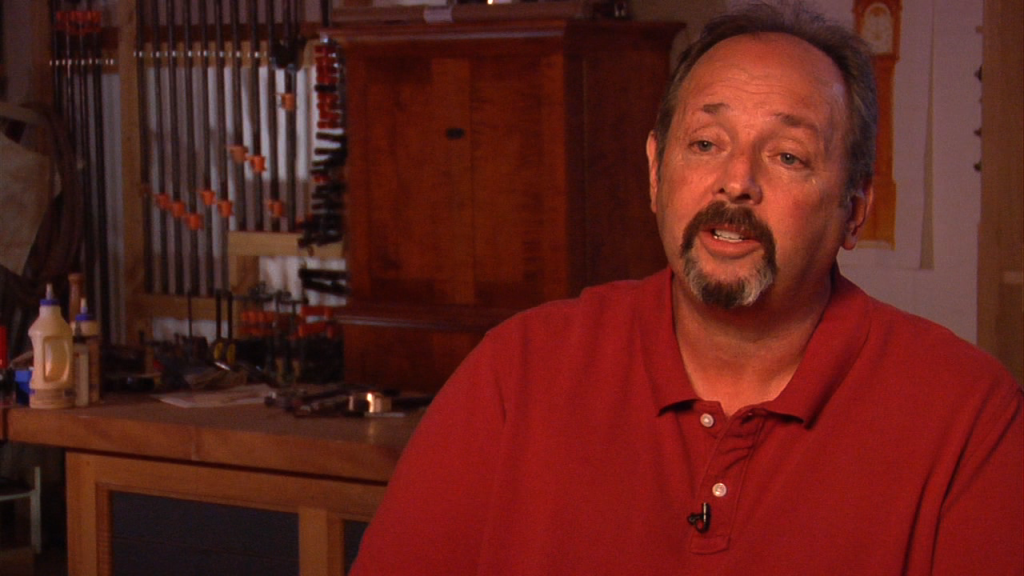 Glen Huey is a fountain of great woodworking tips, tricks and techniques that never stops. He is also one of the most sharing master woodworkers in the industry. We spent a day with Glen recently, first at the Popular Woodworking Magazine studios in Cincinnati, Ohio and then at his nearby shop to hear his story.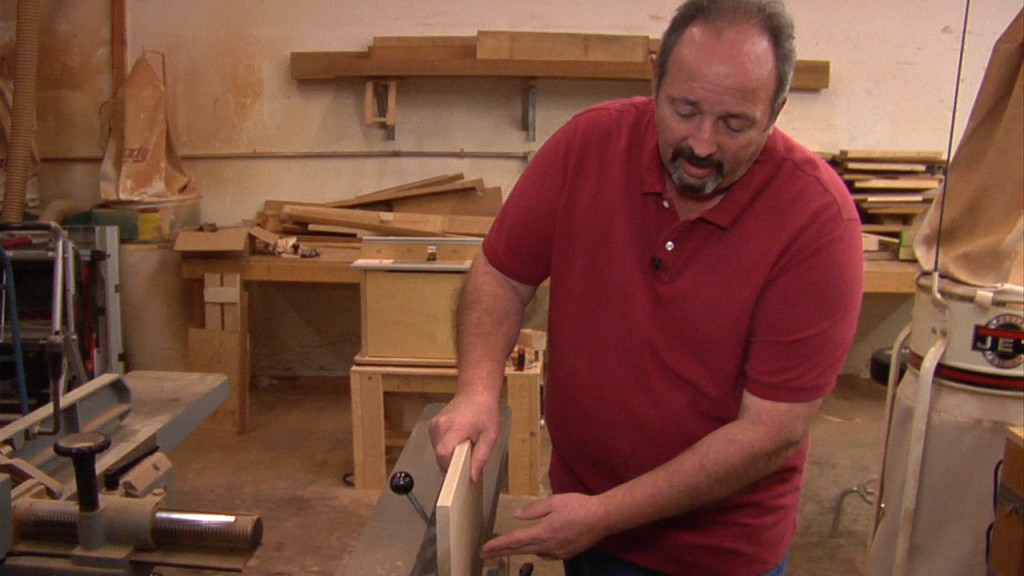 Find out about Glen's discovery by Steve Shanesy, the publishing guru behind the magazine's success and learn some of the tricks this shop wizard uses to craft some of the finest period furniture made today on Moment with a Master!
Mary May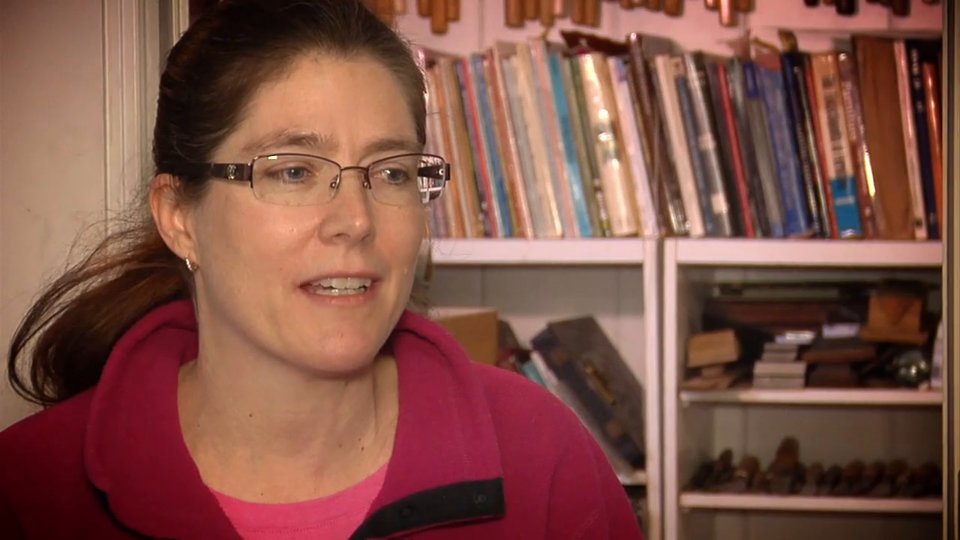 In today's world of woodcarving there is always something about Mary! Well Mary May, that is! She has taken the teaching of woodcarving to new levels of technology with her online school while demonstrating talent and skills as a carver who has been taught by the old world master carvers.
There was even something about Mary the first time she was carved a pumpkin as a kid. All of her friends carved theirs in typical fashion, but Mary went way beyond the ordinary. Once she made her mind up to be a woodcarver she searched for and received instruction from the best all over the world.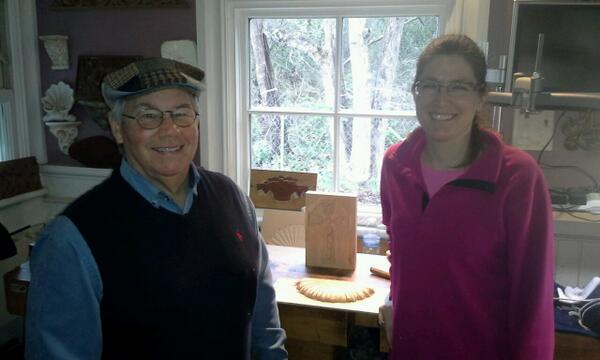 You will enjoy Mary's delightful story as we visited her St. John's Island studio in South Carolina and find out about Mary May in "A Moment with a Master." (Episode 12)
Christopher Schwarz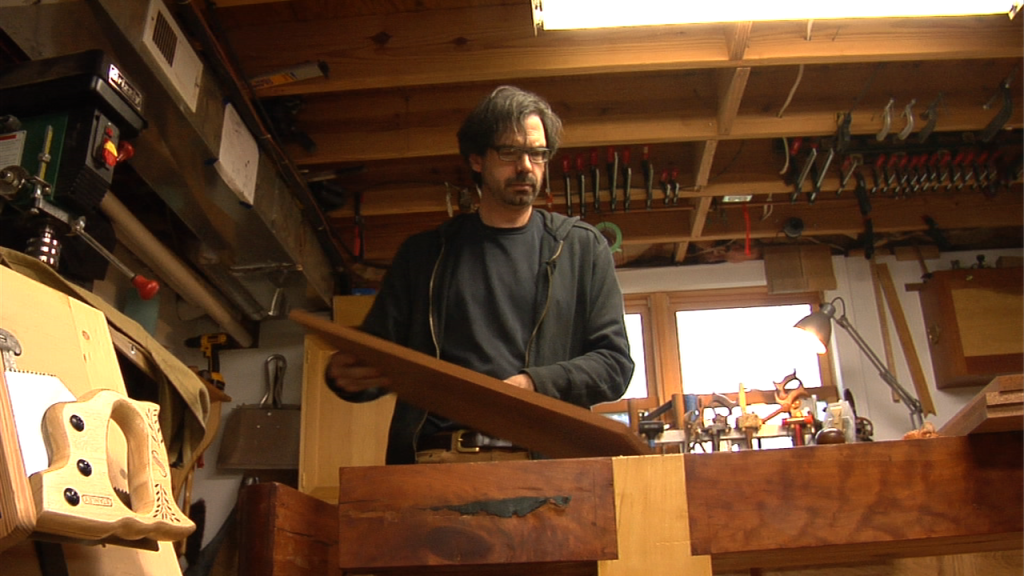 Christopher Schwarz is a jack of all trades and a master of…well…seemingly all of them. An accomplished woodworker, author, blogger, publisher and juggler. Ok so he isn't in the circus, but to have that many things going on at one time requires some tense concentration skills. Chris was nice enough to have us over and interrupt his busy schedule for a one on one interview. He opened up about his early childhood days, about his family's woodworking influence and the house they all built by hand (no power tools.) He also walks us through his professional career at Popular Woodworking Magazine and the leap of faith he took while starting his publishing company Lost Art Press. Wait until you see the historic books he keeps that inspired  a 20,000 man hour project. Plus, so much more!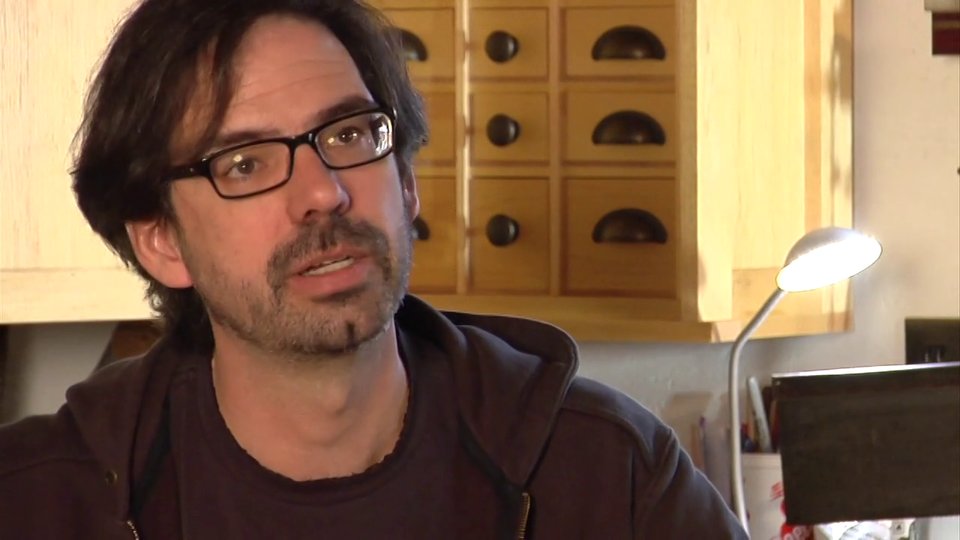 Be sure to watch Christopher Schwarz's "Moment with a Master" segment on Episode 11!
Jim Tolpin
Hearing an old New England boat builder sing "The Iliad" in Greek as he worked was all Jim Tolpin needed to put his degree in geophysics away and become a woodworker. Jim has built his worldwide reputation as a cabinetmaker, teacher and author in the beautiful town of Port Townsend, Washington on the Puget Sound where the air is sweet and artists abound.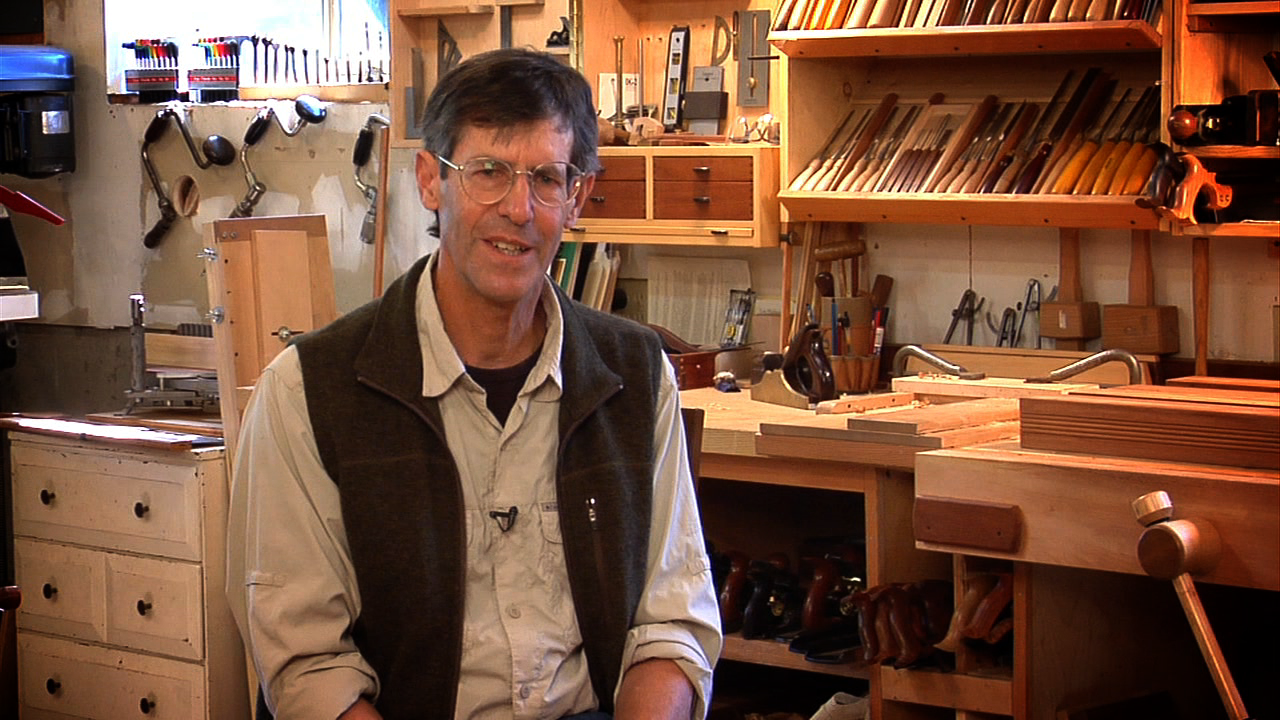 We caught up with Jim there at the woodworking school he helped to found and in the most beautiful, functional hand tool workshop I have ever seen.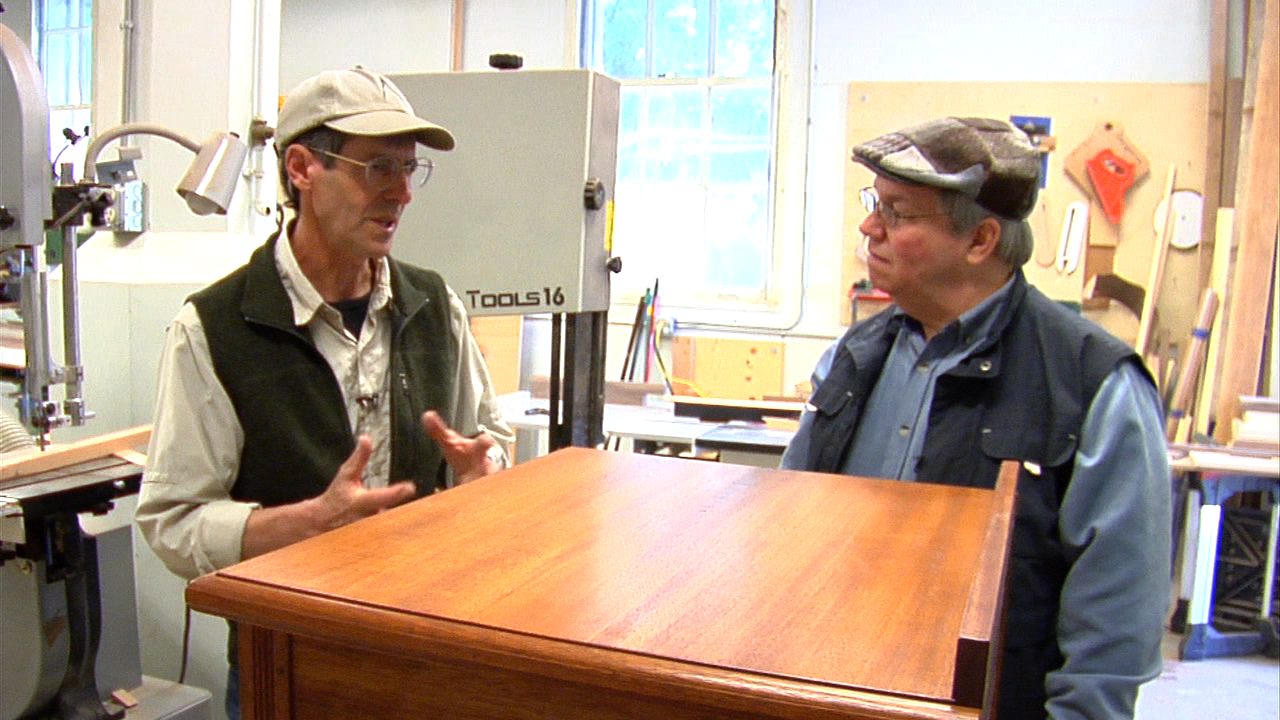 Jim talks about his woodworking journey and "By Hand & Eye," a new book he co-authored with George Walker. The book explains the method the artisan woodworkers of the past designed furniture proportionately using ratios.
Brad Sells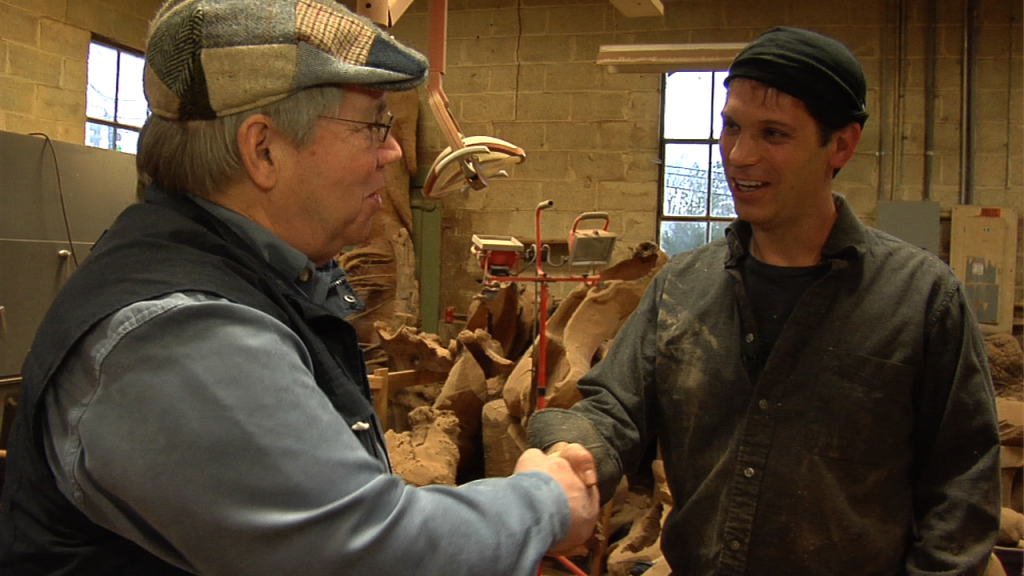 Brad Sells is not a workshop legend among woodworkers like Sam Maloof, or John Krenov. Brad is known within the art community (as Sam was) and it's patrons as a sculptor of wood art forms. In his forties, Brad is young as a master. A view of his work immediately establishes Brad as a master almost without equal in the art of wooden sculptural forms. He laughs when he announces his first museum was the prestigious Renwick Gallery of the Smithsonian.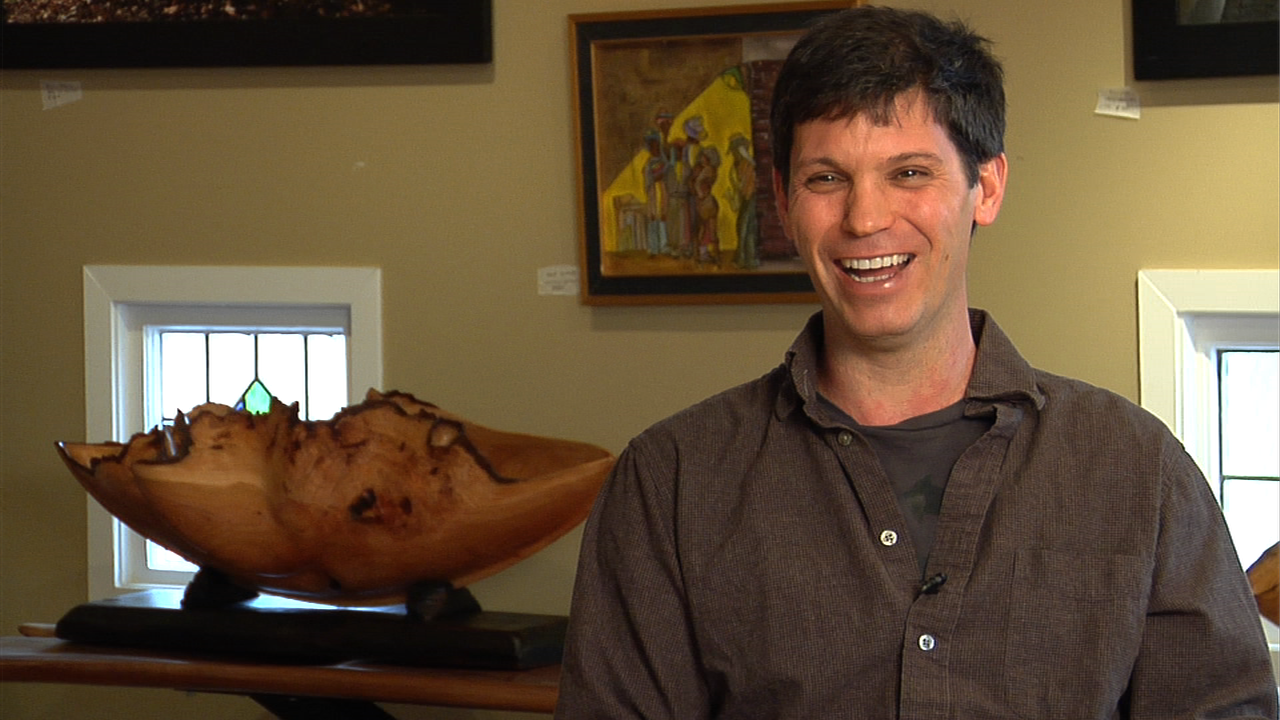 Brad lives above his work, literally! His Cookeville, Tennessee Studio is on the first floor of a structure that also beautifully supports his second floor residence and gallery. The shop has piles of interesting tree limbs, outcroppings and logs that he has collected on Wood Safaris to South Africa, Hawaii and the Amazon. His work is sometimes massive and sometimes delicate like the somewhat human forms of his "On Point" collection in bleached holly. Brad has cobbled together an awesome array of power carving tools on a scale I haven't seen before. Using these tools takes a lot of physical effort, skill and vision of the possible results. Brad brings all of these requisites to his astonishing work.
The Highland Woodworker proudly presents Brad Sells a "Moment with a Master."
Gary Rogowski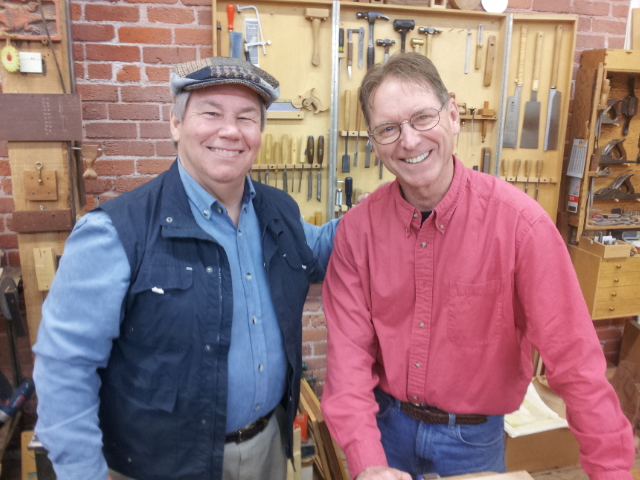 When I was invited to teach a sculptured rocker class at the Port Townsend School of Woodworking in Washington state, I knew I wanted to include a side trip to met Gary Rogowski in Portland, Oregon. After all, Gary wrote one of my favorite books "The Complete Illustrated Guide to Joinery." He has also been a great teaching catalyst for the marvelous contemporary fine woodworking coming from the Pacific Northwest. As we strolled into his studio he was just finishing up a Master Class. His students were taking part in discussions about each piece that had been built. There was great accomplishment and pride all around as they talked about the design and building process that Gary had worked them through in building the furniture of their dreams. I knew the trip would be worthwhile.
It is amazing how many woodworkers have had the exact same experiences and reached the same conclusions. While filming the "Moment with a Master" segment with Gary we started talking woodworking of course, just warming up. We somehow stumbled upon the topic, "What stationary power tool did you buy first?" Gary had purchased a radial arm saw. In difference to the tool maker's marketing, it is probably one of the worst tool values on the market. As Gary would find out it was the first stationary power tool for me too, as I notified him with a big, loud, "You're kidding!"
Gary just makes you feel comfortable and talks woodworking and life with an inspired tone and grin. He understands his story and skills as a woodworker so well he just makes every woodworker and person around him better.
Jeff Miller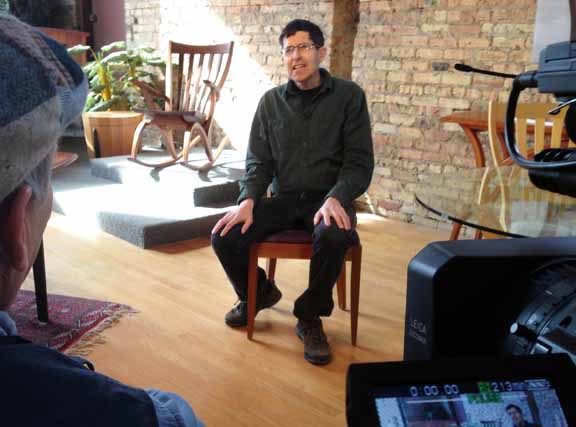 Southern boys in "The Windy City" during February are rare. It was bitter cold but with very little snow as we breezed in to film a "Moment with A Master" segment for the April 2013 show. We met Jeff and his wonderful wife Becky for an "eat and greet" dining session featuring Gino's Chicago style deep-dish pizza.The next morning, Steve and I set up the shoot at Jeff's shop in a former US Post Office and bowling alley. His gallery contained all the beautiful furniture for which Jeff is known. The furniture looked like shining diamonds to this fine woodworker. His chairs' lines are not only exquisite, but meticulously executed.Jeff Miller is just a wonderful engaging person to be around. He is thoughtful, authentic and very much a problem solver. He loves what he does and he enjoys sharing his passion for woodworking with others. His shop is full of great equipment and hand tools. He has several bandsaws including one huge old saw he rebuilt. A SawStop table saw and a big 12 inch combo mach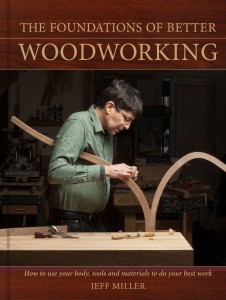 ine give him great flexibility for cutting fine and accurate joinery. But what you really notice are the workbenches everywhere, especially in the Roubo style with Benchcrafted vises. He has them in various lengths for hand tool woodworking. He loves hand tools and has a huge working collection. He showed me a new member of the collection, a travisher from chairmaker, toolmaker and artist Peter Galbert.My first chairmaking book was written Jeff. I found it very useful and inspiring. Every woodworker should read Jeff's new book "Foundations for Better Woodworking". He explains, not only essential woodworking knowledge but how to stand, where to look and how to provide the right amount of pressure in the correct places so your woodworking and enjoyment of the craft can flourish and grow.
His wife told us why Jeff is her hero and he will be one of yours (if he isn't already) when he shares his inspiring story on the show. He grew up in the Bronx, NY and traveled around the world and back, before settling in Chicago to develop into one of the iconic fine woodworkers of our time.
Be sure to learn more about Jeff as "The Highland Woodworker" presents "Moment with a Master" Jeff Miller.
To learn more about Jeff, visit his website.
Alf Sharp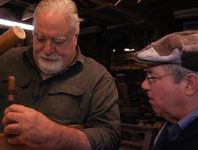 I hadn't met Alf Sharp in person but I could already see the energy of his smile ten seconds into our phone conversation. Alf has an enthusiasm and love for everything that rubs off on everyone and everything he touches. He is just that way and he brings this warmth to his woodworking. Alf's fascination with the centerfold of a British secretary attracted him to furniture making. He brings that same passion for his craft and story to the "The Highland Woodworker's" first "Moment with a Master" episode of the 2013 season.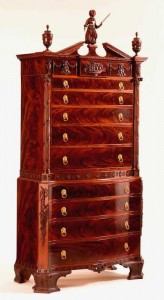 Alfred "Alf" Sharp's website is a huge catalog of some of his commissioned work as a master period furniture maker with an occasional sprinkling of contemporary pieces that have a mischievous quality to them. There amongst the exquisite highboys and period chairs one finds a card table that is suspiciously asymmetrical. Alf walked out of Vanderbilt law school 40 years ago and decided to develop his dream instead of his parents and found it starting with carpentry and coming to fruition as the Society for American Period Furniture Maker's (SAPFM) 2008 Cartouche Award winner for his McIntyre Chest on Chest.
Like Davy Crockett before him Alf found his way from the hills of Tennessee to become not only a president of SAPFM but The Furniture Society.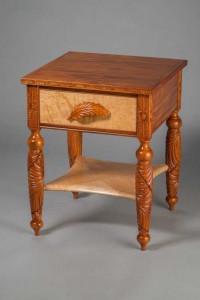 While we visited he was working on a small Cuban mahogany table with banana leaves carved into the legs. Watch Alf as he does what a master does, makes the crafting of intricate and beautiful furniture look simple.
To learn more about Alf, visit his website.
Craig Nutt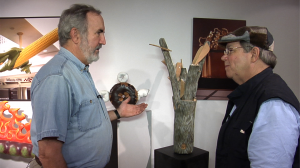 Craig Nutt doesn't particular look like the out of the box artist. He looks like a woodworker. A distinguished gentleman, you might say. Inside, he is just a brilliant artist with a method for producing his organic visions.
Many woodworkers claim that their work is organic in form or their work is described using this term. Organic is definitely overused. I think personally, I am going to drop the it from descriptions of my own work after seeing Craig Nutt's work. In his formative years, Craig grew vegetables and tended a garden. Little did he realize that this experience would someday manifest itself in Craig's woodworking artistry.
Artists create their visions without limitations. The most creative visions stretch the known boundaries (the box). I didn't have to visit with Craig Nutt long to understand his mission as an artist is based on total avoidance of the box. His mantra is simply, "Why not!" How else could you create a project like "Build A Tree From a Chair" or a "Rhubarb Table" for a dining room that seats six?
In Craig's shop, website , exhibitions and galleries these meticulous incredible, visions abound as real projects. I love the picture of Craig with his Spudwhacker (carrot) Bat on the contact's page of his site. This was turned for a Louisville Slugger Bat Company exhibit. He wasn't simply holding the bat for the picture. Oh no! He was dressed in complete uniform showing his best "Swing for the fence". This attention to detail is everywhere in Craig's work.
Craig didn't start out making giant ears of corn or pea pod chairs, etc. He built a foundation of woodworking skills based on first repairing antiques then building traditional period furniture. He knows his craft and pursues it in a very organized process after conceiving the possibilities. Modeling is the starting point for making the projects a reality. Then it's to the shop when he knows what he wants to do.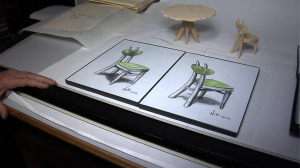 His shop is large and spacious and well organized for production. After conception he is a great artistic woodworker with tremendous skills. He just turns out ten foot ears of corn like the "Corncorde" with a 10 foot shuck span.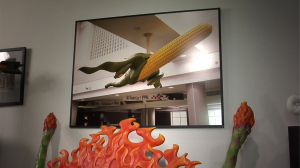 Craig's "Corncorde" catches the eye of thousands of travelers at the Atlanta Airport.[/caption]
Now that's ORGANIC! That's Craig Nutt!
To learn more about Craig Nutt visit his website.
---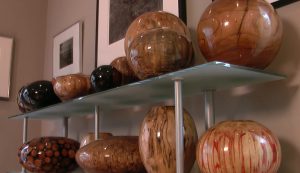 This Moment with a Master is a story about Atlanta, Georgia's Moulthrop family, three generations of masters. I saw a picture on the cover of Fine Woodworking Magazine in the early '80's of Ed Moulthrop turning a huge bowl on a lathe. It was a benchmark moment! It was kind of like seeing my first picture of a Sam Maloof rocker. This is a story about a pioneer in the field of artistic wood turning. When Ed started turning he actually had to build his own lathe and make his harpoon sized turning tools. Ed's bowls were not only large enough for his young grandson Matt to stand in, they were beautifully crafted with a proprietary finish that makes them look like glass. Ed passed away in 2003 and left a legacy of work prized by museums and collectors all over the world. His son Philip and grandson Matt worked with Ed and have continued the legacy that establishes them as masters. Their story has been featured in a "Craft In America" segment on PBS and their work has been honored by the inclusion of works by all three generations in The Smithsonian Museum. – Charles Brock
For more information about Ed, Philip & Matt visit: www.moulthropstudios.com.
---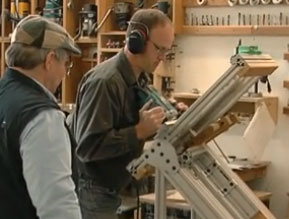 Brian Boggs
Chairmaker Brian Boggs started redesigning tools as a teenager in the tobacco fields of Kentucky. He quickly decided that the pain shooting up his arm from using the poorly designed handle on a tobacco knife was motivating enough to design one that wouldn't twist in his hand. Brian hasn't stopped modifying and engineering every tool and application in his workshop since that early agricultural experience. His artistic chairs run the gamut from sensual post and rung to the best in contemporary designs, just as his engineering goes from developing a better shave horse to building jigs and fixtures from something he calls "The Woodworker's Erector Set".
See Brian Boggs in our Moment with A Master series in Episode 2 of The Highland Woodworker. To learn more, go to the boggscollective.com
---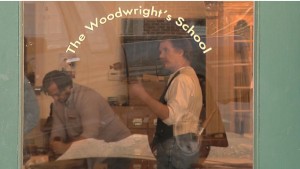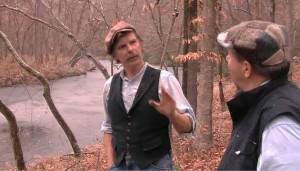 Roy Underhill
It's a dot on the North Carolina map but it's home to a woodworking star. The Highland Woodworker meets Roy Underhill on his rural turf. A 19th century grist mill transformed into cozy living quarters for he and his wife. Their unique home is nestled between tall trees and the constant movement of water. Hear how all of the natural resources in Roy's backyard can make for a special teaching experience for his students. Plus we get to travel with Roy down the road to his new school that requires students to go old school if they want their project to turn out right! Sit back and spend a moment with a master, Roy Underhill.
To learn more, go to www.woodwrightschool.com
In the short video below, Roy takes us on a tour of his unique property in North Carolina.