The Highland Woodworker – PLUS
Add the PLUS video(s) of your choice to your cart and watch them now. You may watch the video(s) you choose as many times as you would like for a six week period.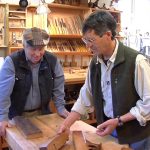 Hand Plane a Board with Jim Tolpin – 35 minutes
This is the best lesson ever on how to plane a board! Hand tool guru and master teacher Jim Tolpin hand planes a board from in the rough to a shiny, absolutely flat-planed surface in this thirty-five minute lesson. Jim demonstrates the use of the fore, tri and smooth planes and the techniques and considerations necessary to impart a flat plane on the board's surface. Take a look at Jim's new book "
By Hand and Eye
"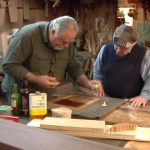 French Polishing with Alf Sharp
Master period furnituremaker (SAPFM - Cartouche Award Winner) Alf Sharp demystifies the art of French polishing. He takes you through from start to finish the way he was taught in France of all places. Alf has something new and interesting going on with his carved bowties. Take a look at Alf's great work!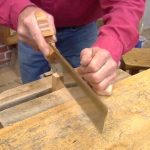 Five Minute Dovetail with Gary Rogowski – 5 minutes
Gary uses this quick warm up every day to get the mind, eyes and hands all working wood. You will also learn how to improve your dovetail watching and listening to this master.